Industry Pioneers
In 2005, our co-founders started working on a way to let people experience the benefits of running outdoors without the impact. Five years later we launched the world's first elliptical bike – a new category of cycling and fitness. Since then, our small and dedicated team has delivered more than 30,000 ElliptiGOs to customers around the world. We are proud of what we have achieved, and will continue to innovate and positively impact our customers lives.
2005 Former Marine and Ironman triathlete Bryan Pate loses the ability to run for exercise. Dissatisfied with cycling and the elliptical trainer, he wants something that doesn't exist: a low-impact outdoor running device. He partners with ultramarathoner, Ironman triathlete and mechanical engineer Brent Teal to start working on the idea.
2006 Brent finishes building the first prototype, codenamed "Alfa." On its maiden voyage, Bryan rides it for 20 miles and hits 20 mph. Both are convinced that they are onto something.
2008 Brent completes construction of the second prototype, codenamed "Charlie." Bryan attempts the 50-mile Rosarito to Ensenada bike ride on Charlie. He finishes the ride in 3 hours and 16 minutes of ride time, averaging more than 15 miles per hour and proving the viability of the elliptical bicycle.
2008 Bryan and Brent quit their jobs to focus on developing elliptical bicycles full-time. Brent designs and builds the first elliptical bike with an aluminum frame and internal guide tracks, codenamed "Delta."
2009 Improving on Delta, Brent designs a fourth-generation elliptical bike, codenamed "Echo" and has 5 prototypes manufactured. To end any debate about the capabilities of elliptical bikes, Brent and Bryan complete The Death Ride, one of the toughest cycling events in the country.
2009 ElliptiGO secures its first office space and hires its first employees. The office is too small for everyone to work there at the same time, so Erin worked from home, Bryce worked from the Solana Beach Library and Bryan and Anamaria worked from the Northern California "Shedquarters."
2010 ElliptiGO introduces the "8S", the world's first commercially available elliptical bike, making its first sale on February 24th, 2010.
2010 A few weeks later, running legend Dean Karnazes rides his model 8S 488 miles from San Francisco to Los Angeles in 5 days and then runs the LA Marathon the following morning.
2010 Customer Doug Leland completes the first trans-America trip on an ElliptiGO, riding more than 1,700 miles from the Canada border to the Mexico border.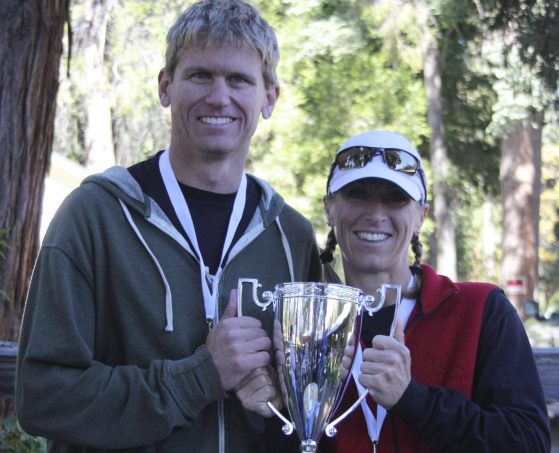 2010 In November, Australian Damian Barlow and American Angela Shartel win the first annual World Championships of Elliptical Cycling. Held each year at Palomar Mountain, this grueling course climbs 4,209 feet over 11.7 miles at an average grade of almost 7% and draws the top ElliptiGO riders from around the world.
2010 The first ElliptiGO Rally Weekend is held in conjunction with the World Championships of Elliptical Cycling, marking the largest gathering of elliptical bike riders ever.
2011 The company introduces the 3C, 8C and 11R models and retires the 8S. Mega star Usher is the first person to purchase an 11R model.
2011 Customer Patti Klein creates the ElliptiGO Facebook Group so ElliptiGO riders can discuss all things ElliptiGO. The group becomes the hub of the ElliptiGO community and grows to more than 4,500 members.
2012 ElliptiGO bikes are featured on Good Morning America, the New York Times, Runner's World and the Wall Street Journal.
2012 Rick Hermelin, a 71 year old former Marine, becomes the first person to ride an ElliptiGO across the United States from the Atlantic Ocean to the Pacific Ocean, raising more than $10,000 for the families of wounded Marines.
2012 Nine athletes who trained on ElliptiGOs participate in the USATF Olympic Trials. All of our athletes make it to the finals of their respective events and three make the US Olympic Team, including Julie Culley (pictured here) the 2012 US National Champion for 5,000 meters.
2013 The first ElliptiGO tattoo is inked onto a customer.
2013 Ireland's Mark McCabe and Britain's Squash Falconer win the inaugural European ElliptiGO Championships at Mt. Revard in France, a spectacular 13.3 mile climb gaining 4,190 feet of elevation.
2013 The ElliptiGO Century Club - recognizing the first 100 riders to complete a century ride - admits its final member.
2013 Fast Company Magazine names ElliptiGO the 6th most innovative company in fitness, behind Nike and Zumba and ahead of CrossFit and Strava.
2013 Bill Pinnell is awarded the first ever "ElliptiGO Authentic and Inspiring Award," recognizing a member of the ElliptiGO community who inspires fellow ElliptiGO riders through their example.
2013 Google cofounder Sergei Brin rides his ElliptiGO in the movie "The Internship"
2014 Customer Jane LeGore hosts the first annual "ElliptiGO Winter Classic" in Phoenix, Arizona - establishing the format for "ElliptiGO Classic" events around the country to follow.
2014 Meb Keflezighi credits the ElliptiGO elliptical bike with helping him win the Boston Marathon by running his fastest marathon ever at the age of 38.
2014 To honor Meb's historic win at Boston, ElliptiGO revived the 8S model and sold 100 patriotic-themed "Meb 8S" elliptical bikes.
2015 Six ElliptiGO riders complete the 2015 Paris-Brest-Paris race, a 1235-km non-stop race from Paris to Brest and back that must be completed in less than 90 hours, making it one of the toughest cycling events on the planet.
2015 ElliptiGO customers establish the Global ElliptiGO Riders Club to host in person and virtual ElliptiGO events and challenges around the world.
2015 Marathon legend Meb Keflezighi includes a highlight of the ElliptiGO and his usage of it in his book "Meb for Mortals
2015 The Arc model is launched, the world's first compact-stride elliptical bicycle. With its quiet swing-arm system and elegant frame, the Arc quickly develops a loyal group of customers who dub themselves "Team Arc."
2016 Lyn Huston starts her "GO Streak" of riding her ElliptiGO every day. She would end up riding 502 days in a row a total of 8,693 miles, losing 90 pounds in the process.
2017 British ultramarathoner Tim Woodier becomes the first person to "Everest" on an ElliptiGO - climbing more than 30,000 feet in less than 17.5 hours.
2017 Brian Reynolds sets an official double below-the-knee amputee world record in the marathon by running a 3:06:31 after incorporating ElliptiGO-training into his regimen.
2017 British Adventurer Emma Timmis sets a Guinness World Record by riding 7,951km across Australia in 74 days on her ElliptiGO.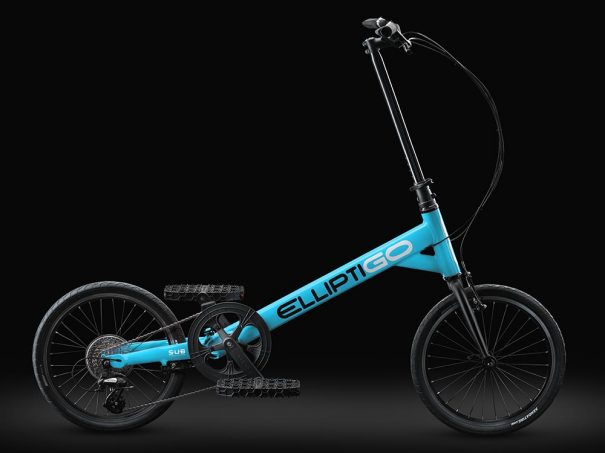 2018 ElliptiGO introduces the SUB (Stand Up Bike). Even lighter than the Arc and more portable, the SUB is like a BMX bike for adults - delivering a killer full-body workout in a fun and nimble package.
2018 Idai Makaya inspires hundreds of ElliptiGO riders through his Longest Ride Challenge, capped off by a 1730-mile record-setting ride across the length of Britain and back.
2019 ElliptiGO launches the MSUB and RSUB models, providing new options for all-terrain and road riding.
2019 Tera Moody breaks her own 24-hour world record by riding her ElliptiGO 269.74 miles in one day.
2019 The 300th competitive team at the collegiate or high school level integrates ElliptiGO bikes into their athlete training regimen
2020 ElliptiGO launches the Fluid 365 Stationary Trainer, enabling all customers to enjoy their ElliptiGO bikes indoors or outdoors.
2020 Belgian Gert de Mulder sets a new 24-hour distance record for men by riding 348.15 miles in one day.
2020 Jennifer Lopez is photographed riding her 11R in Miami
2020 Nearly 100 athletes competing at the US Olympic Marathon trials incorporate ElliptiGO into their training, including Molly Seidel a US Olympic Marathon Team Member and the winner of the 2020 World Championships of Elliptical Cycling
2020 Jimmy Fallon announces the launch of his book while riding his 11R in the Hamptons
Brent Teal Chief Engineer / Co-Founder
Bryan Pate CEO / Co-Founder
Bryce Whiting Chief Enthusiast Officer
Beth Visscher Vice President of Operations
David Bruno Customer Service & Inside Sales
Erin Whiting Lead Enthusiast / Customer Service
Gidget Chief Happiness Officer
Jeff Caron Sports Performance Sales Manager
Keri Cleeremans Service Manager
Sarah Enjem Sales Operations Manager
Tennille Hopper Creative Director
RAVE REVIEWS
Hear From Our Customers
Thanks ElliptiGO!
I was told about 7 years ago I needed both knees replaced but try to wait. I had to give up running but found the ElliptiGO and over the past 5+ years the ElliptiGO got me into the best shape and strengthened my knees and legs so that when I finally had to have both knees replaced this past Fall my recovery was quick. I started Spin classes 6 weeks after the total knee replacement (both knees) and was outdoors on the ElliptiGO 8 weeks after the surgery. Thanks ElliptiGO.
Pain-free Riding!
I am an ex-rugby player with back and knee problems in my early 60s. I started to bicycle as it was easier on my knees. I would finish my bike rides with a lower back ache. I bought an 11R and in my first 9 months, I put 1200 miles on my GO. As a matter of fact, I like it so much that I rarely bicycle anymore. I find that it is easier on my knees and back and it seems to work my core and leave me feeling better after my ride. Thanks for designing this masterful piece of exercise equipment.
How I Discovered the Amazing Benefits of the ElliptiGO
In 23 years of endurance training, I have never seen such a fun bike. Not only has the ElliptiGO made me a faster runner, it also helps speed recovery. I have never used an elliptical machine at the gym, but I was able to get going on the ElliptiGO on the first try. Riding my ElliptiGO gives me a far better workout than riding a regular road bike. Best of all, it has no impact, so no injuries! As a 52-year-old runner, I can now simulate the volume of training I sustained in my 30s.
A great ride.
Riding my ElliptiGO is great. It is easy on the body with no discomforts like a upright bike. No sore butt, neck or back. You are up higher so you have a great view and you don't have to strain your neck to look around. There is no impact so you knees don't take a beating.Try it and you won't want to go back to running or regular bikes. I can climb any hill. I ride slower on the ElliptiGO than an upright bike but am getting more exercise while doing it.
A fun ride, a well made machine
This is a great product! I have never been an athlete, nor a runner or a cyclist and I have never found an activity that I enjoyed but I knew I needed to increase my exercise level. A friend introduced me to ElliptiGO and I have not looked back. They are more effort than a bike but that means you get more of a workout! I am slower than cyclists, but after a ride I may be tired but I am not sore: no saddle soreness, no stiff neck or shoulders. The next day I can ride again without discomfort.
You won't regret the 11R
A little more expensive than the other ElliptiGOs but worth the money for someone that is using it often. It is a much better ride and the difference in price between the 8C and the 11R will soon be realized. You'll have the bike for a long time, so if you're on the fence go for the 11R.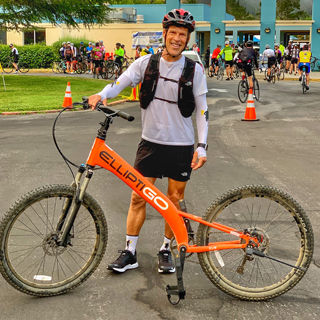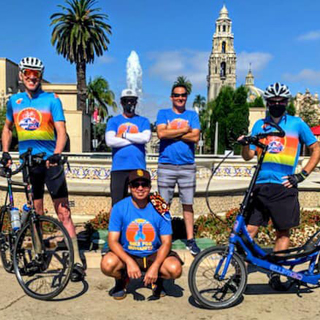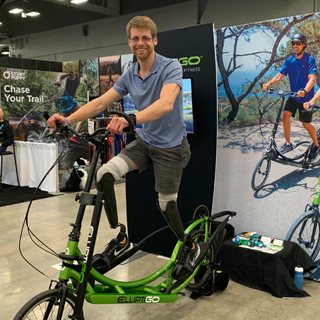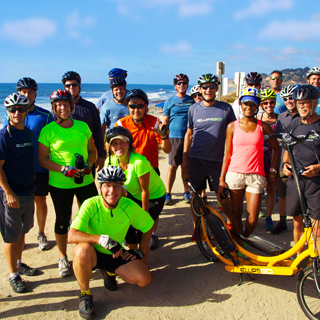 ElliptiGO Communities
In addition to a great elliptical bike or stand up bike, ElliptiGO users get access to a community, they get access to a community of thousands of other riders who are eager to help each other get as much as possible from their ElliptiGO experience. From events and races, to tips and training suggestions, the ElliptiGO community really sets ElliptiGO apart.
Integrate ElliptiGO bikes into your training program
The ElliptiGO bike has quickly become one of the most sought-after cross-training tools to substitute and supplement runs due to its highly efficient, low-impact running motion. See how you can incorporate ElliptiGO training and guide your athletes to their highest potential.
Why ElliptiGO
The Benefits of Stand Up Cyling Explained
ElliptiGO Stand Up bikes let you experience an effective cardio workout that's easy on your body and gets you out of the gym. The upright position and low impact on your joints makes for a comfortable ride that positively impacts your fitness.