"Whoa! Did that just happen?"
"That was incredible!"
While some spectators at the 6th Annual World Championships of Elliptical Cycling could voice their astonishment, others just gazed slack-jawed as Sarah Brown casually dismounted the ElliptiGO 8S she borrowed from the ElliptiGO headquarters. As one bystander described it, "She basically just demolished the course record."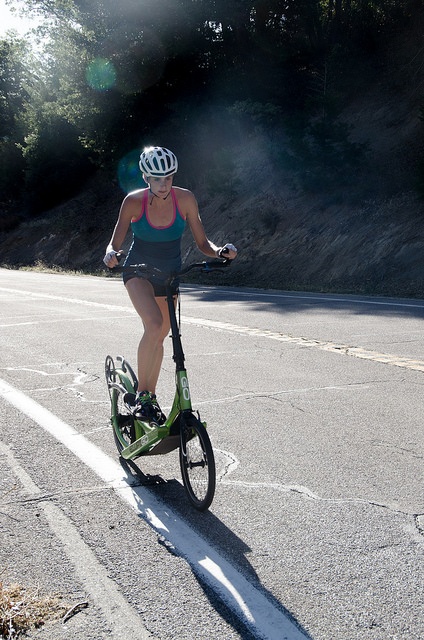 Sarah covered the 11.69-mile route, which winds and climbs 4209 feet up Palomar Mountain, in 1:20:28, slashing 8 minutes off the record set just last year by pro runner Deb Maier. Did we mention she is 18 weeks pregnant? Her husband, Darren, joked that she could pull off the feat "because she had two hearts" working to power her up the incline.
Runner-up Mary Decker-Slaney, a perennial presence on the podium, was a full 10 minutes behind Sarah, despite recording a personal best in the event: 1:30:54. At the award ceremony, Decker-Slaney bowed to Sarah and vowed to return again in 2016 for another shot at the top.
Anna Thatcher claimed the third spot in 1:57:33, moving up from 8th a year ago while cutting nearly 4 minutes off her 2014 time.
The men's race also left people in awe as elite masters runner Rusty Snow continued his dominance, racking up his fourth consecutive victory with a time of 1:11:05. Heading into the race Snow felt the target burning on his back, as several elite runners and cyclists joined the field, each hoping to bring his reign to an end. One nearly did.
Close on Snow's heels was Eric Blake (1:11:21), a newcomer to the World Championships but no stranger to climbing tough mountains. He is a member of the US Mountain Running Team and three-time winner of the Mount Washington Road Race. Taking third was 2014 runner-up Rick Bienias, who clocked 1:12:35 despite having a broken right wrist that caused him to ride one-handed much of the time.
Darren Brown was himself one of the pre-race favorites, and he hoped to pull off the double feat of being the first ElliptiGO employee to claim the Founders' Cup, while also giving the Brown household a Championship monopoly. However, fate frowned on him as he experienced trouble with his gear shifter 7.5 miles into the race. He had led the entire way to that point. As he tried to fix the problem while still riding, his rear tire popped, along with his Championship hopes. Like Decker-Slaney, he's already looking toward 2016.
Rusty, it's not going to get any easier.
Congratulations to all the participants! We hope to see you again next year.
Overall Results

Athlete
Final Time
1
Rusty Snow
1:11:05
2
Eric Blake
1:11:21
3
Rick Bienias
1:12:35
4
Garrett Heath
1:14:10
5
Jason Warick
1:15:32
6
Sarah Brown
1:20:28
7
Nat Waller
1:24:56
8
Bryce Whiting
1:25:30
9
Mary Decker Slaney
1:30:54
10
Darren Brown
1:31:58
11
Carl Yee
1:32:21
12
Jeff Mann
1:33:54
13
Jeff Caron
1:38:14
14
John Burmester
1:41:28
15
Bob Heath
1:43:31
16
Bryan Pate
1:47:00
17
Jordan Trump
1:48:23
18
Eric Korevaar
1:49:08
19
Robert Hoxie
1:53:05
20
Steve Hughes
1:55:32
21
Chris Branson
1:55:40
22
David Pittman
1:56:30
23
Chris Zito
1:57:11
24
Anna Thatcher
1:57:33
25
Keri Cleeremans
2:00:36
26
Bill Pinnell
2:00:42
27
Erin Whiting
2:01:18
28
Anissa Andres
2:04:31
29
Malinda Walker
2:04:35
30
Melissa Goodwin
2:09:27
31
Margarita Rypkowski
2:10:58
32
Carolyn Craig
2:12:49
33
Clay Whiting
2:15:17
34
Kendall Trump
2:21:59
35
Jeff Legore
2:25:23
36
Michael Miller
2:35:58
37
Dave Griffith
2:36:45
38
John Pilkington
2:47:17